Welcome to Comcast! We bring together the best in media and technology, driving innovation to create the world's best entertainment and online experiences. With over 5,000 local employees, Comcast serves customers in the southeastern U.S., including those in South Carolina, Georgia, Alabama, Arkansas, Mississippi, Louisiana and Tennessee.
To learn more about Comcast in your neighborhood, our Xfinity products and services, and our regional community investment activities, follow us on Twitter @ComcastSouth.
For information about Comcast Corporation, visit www.corporate.comcast.com, or click here to visit the Comcast corporate press room.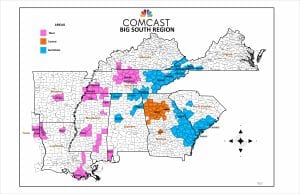 Comcast's coverage areas are highlighted in the map above.