Award is part of Comcast's national RISE program to support Black, Indigenous and People of Color (BIPOC)- and women-owned small businesses
Comcast announced today it has awarded a technology makeover to BIPOC-owned small business Rev It uP LLC, owned by Sterling Henton (also known as "DJ Sterl the Pearl"), in Knoxville. The recipient is one of more than 8,000 entrepreneurs nationwide who were selected as Comcast RISE awardees in the program's fourth phase. RISE stands for "Representation, Investment, Strength and Empowerment."
As part of the technology makeover, Rev It uP LLC is receiving computer equipment and internet, voice, and cybersecurity services for up to 12 months. Taxes and other fees may still apply for tech makeover services.
Rev It uP LLC is an entertainment and event planning business that focuses on motivational techniques and team building. A former University of Tennessee (UT) football player and current UT sideline disc jockey, Henton credits the technology makeover with providing him a better perspective on how to run a business.
"I started clapping when I received the package with the new laptops and iPad," said Henton. "The equipment gave my team and me the ability to store more information and respond to requests quicker. The award was a blessing, and we are really rocking and rolling now."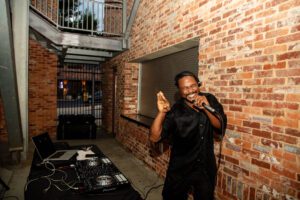 "We are thrilled to celebrate Rev It uP LLC and their recent technology makeover," said Jason Gumbs, Regional Senior Vice President at Comcast. "Independent small businesses are the backbone of our communities, so it's an honor to play a small role in their continued success."
Since the award, Henton has seen a 25-30 percent increase in business. He hopes to start a podcast and write a book with the help of his new equipment and technology services.
Comcast RISE brings together two of the company's brands —Comcast Business and Effectv, both with expertise in the small business space — to empower business owners with the expertise and resources needed to navigate the economic effects of the pandemic.
Comcast RISE is part of Project UP, Comcast's comprehensive initiative to advance digital equity and help provide underrepresented small business owners with access to the digital tools and funding they need to thrive. Over the next 10 years, Comcast has committed $1 billion to programs, like Comcast RISE, and partnerships that will reach an estimated 50 million people with the skills, opportunities, and resources they need to succeed in an increasingly digital world.