Three local companies receive $5,000 grants from Comcast Business
(Atlanta) – April 6, 2022 – Comcast Business has partnered with the Georgia Hispanic Chamber of Commerce (GHCC) to support three local Latina-owned businesses impacted by the COVID-19 pandemic.
Through Comcast Business' Together Towards Tomorrow program, the businesses will each receive a $5,000 grant.
"It is an honor to partner with Comcast and support these deserving businesses," said Veronica Maldonado-Torres, President and CEO of the Chamber. "We hope that these grants can help our recipients continue to execute on their important missions."
The following companies are each receiving a $5,000 grant through Together Towards Tomorrow:
Trendy Fun Party, a company that designs customized events for a variety of celebrations.
Bocados, a Colombian-style restaurant based in Atlanta that serves high-quality, authentic cuisine.
Tylest, a family-owned business that manufactures masonry veneers inspired by nature.
"The small business community plays more of a vital role in our economy than ever," said Jason Gumbs, regional SVP at Comcast. "We are thrilled to collaborate with the Georgia Hispanic Chamber of Commerce to support these local organizations."
Established in 1984, the GHCC's primary focus is on business formation, business growth, and civic and leadership development and engagement. It serves entrepreneurs and business owners through consultations, workshops and seminars, and partners with organizations such as the Small Business Development Center to bring quality programming to the Hispanic business community. With over 1,000 members, the GHCC is one of the largest Hispanic Chambers in the United States.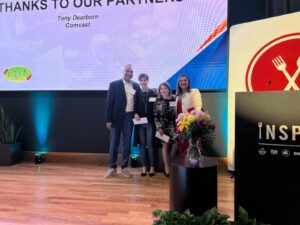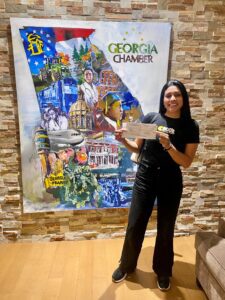 Together Towards Tomorrow grant recipient Beatriz Sossa (Bocados) celebrating at the Georgia Hispanic Chamber.