Grant is part of the Together Towards Tomorrow Initiative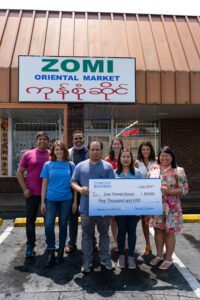 NASHVILLE, Tenn. (August 3, 2021) – Comcast Business donated a $5,000 grant to Zomi Oriental Market in partnership with the Tennessee Immigrant and Refugee Rights Coalition (TIRCC). The grant is part of the Comcast Business initiative 'Together Towards Tomorrow', which focuses on supporting small businesses within the community.
Zomi Oriental Market, owned by Tang Mang, is an international grocery store specializing in Asian food assortments. The market serves as a staple for the Zomi community in Nashville. Impacted by both the flooding of 2010 and the COVID-19 Pandemic, Zomi Oriental Market is a great example of how businesses can survive and thrive.
"Like Comcast, we are committed to supporting members within the community and making impactful changes," said Lisa Sherman-Nikolaus, Tennessee Immigrants and Refugee Rights Coalition Executive Director. "These Comcast grants not only help support small businesses impacted by the pandemic but also provide inspiration for business owners to continue their passion and contributions to the community."
"As the pandemic continues to affect the community, we are proud to uplift small businesses in the Nashville area," said Jason Gumbs, Comcast's Regional SVP. "I am thankful to the Tennessee Immigrant and Refugee Rights Coalition for partnering in our initiative to support small businesses like Zomi Oriental Market."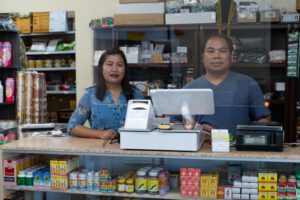 Comcast Business has developed several programs to support the recovery of small businesses adversely impacted by the COVID-19 pandemic. The Together Towards Tomorrow campaign was created by local Comcast Business employees in the Southeast who wanted to do even more for their customers and business partners.
As part of Together Towards Tomorrow, Comcast Business is working with local chambers and other community partners to identify businesses in need. Tennessee Immigrant and Refugee Rights Coalition in Nashville helped Comcast identify area businesses who qualified for the program.