Financial award to support My.Future program 
Comcast today announced it has awarded a $10,000 grant to the Boys and Girls Club of the Hatchie River Region in Covington, Tenn.
The grant will support the chapter's My.Future digital inclusion training program. The program helps club members build online skills and learn how to use technology in an effort to bridge the digital divide. The funds from the grant will go toward purchasing 20 desktop computers and technology equipment to support the program.
"We want to thank the Comcast Foundation for their continued support of our programs," said James Moore, CEO, BGCHRR. "This generous grant allows us to get new computers for our lab which will greatly benefit our members of the My.Future digital inclusion program."
"We are proud to be a partner with the Boys and Girls Club of the Hatchie River Region," said Jason Gumbs, Regional Senior Vice President at Comcast. "As the world becomes more digital, we know how important it is to support programs that help close the digital divide."
In addition to the grants from the Comcast Foundation, Comcast also responds to community needs through local sponsorships and in-kind support, such as airing public service announcements, employee volunteerism, and providing technology equipment and services to organizations across the country. The Comcast Foundation continues to build on its efforts through expanding access to technology to promote digital inclusion, helping individuals build skills for the digital economy, and encouraging innovation and entrepreneurialism.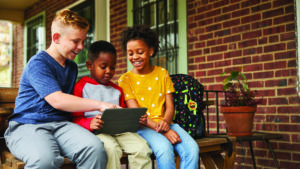 The Boys and Girls Club of the Hatchie River Region is a 501(c)(3) organization that achieved its non-profit status in December 2010 and relies on contributions of supporters and volunteers. Its mission is to provide an inclusive environment and resources for success for all children.