Lift Zones provide safe spaces to help students and families access the internet
for school and digital skills building
Conexion Americas Casa Azafran, Urban Housing Solutions, Boys and Girls Clubs and Legacy Mission Village named initial Lift Zone partners in Nashville
Comcast announced today the opening of six Xfinity Wi-Fi-connected "Lift Zones" in Greater Nashville to support local students impacted by the COVID-19 pandemic.
The COVID-19 crisis has put many low-income students at risk of being left behind and has accelerated the need for comprehensive digital equity and internet adoption programs to support them. Lift Zones are designed to help those students who are unable to distance learn at home.
Comcast will provide robust Wi-Fi hotspots in safe spaces designed to help students get online, participate in distance learning and do their homework. Many of these sites also serve adults and can connect them to online education, job searches, healthcare information and public assistance. This initiative provides free connectivity inside the community centers and access to hundreds of hours of content to help families and site coordinators navigate online learning.
"As we continue to bridge the digital divide, the pandemic has brought on additional challenges for families and students that we have sought to address," said Jason Gumbs, Regional Senior Vice President at Comcast. "These lift zones offer a safe place for our students to succeed, and we thank our community partners for their support."
The first six Lift Zones across greater Nashville include:
Conexion Americas Casa Azafran
Urban Housing Solutions
Boys and Girls Club of Franklin
Legacy Mission Village
Boys and Girls Club Andrew Jackson Unit
Boys and Girls Club Cleveland Park Unit
"The Lift Zone has enabled Legacy Mission Village to continue to be a safe haven for the refugee community," said William Mwizerwa, Legacy Mission Village Founder & Executive Director. "Refugee students are equipped to continue virtual schooling without service interruptions. The free internet has played a crucial role in providing families in need access to crucial resources like unemployment assistance, food stamps, along with citizenship and job applications. During these challenging times, digital literacy and access have become an even greater necessity for our community."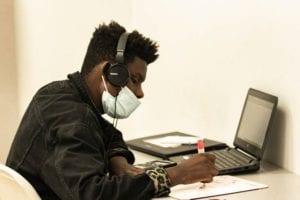 Caption: Student taking advantage of the Legacy Mission Village Comcast Lift Zone.
"Conexión Américas is grateful for Casa Azafrán to serve as a Comcast LiftZone for the Southeast Nashville community," said Juliana Ospina Cano, Executive Director of Conexión Américas. "As the COVID-19 pandemic has exacerbated the digital divide for immigrant-origin families in Tennessee, we know that broadband access is critical to the academic success and economic prosperity of Latino students and their families. Our partnership with Comcast will make an impact on digital equity in education for immigrant students and families in Nashville."
In October, Comcast announced a multiyear program to launch more than 1,000 Xfinity WiFi-connected Lift Zones in community centers nationwide. This effort is part of the company's ongoing commitment to help connect low-income families to the internet and provide resources to help them fully participate in educational opportunities and the digital economy.
In nearly 10 years, Internet Essentials has become the nation's largest and most successful low-income internet adoption program and has connected millions of people. It offers households low-cost, broadband service for $9.95/month, the option to purchase a heavily subsidized computer and multiple options for free digital literacy training. In 2020, Comcast committed to providing 60 days of free Internet Essentials service for qualifying low-income families that are new customers through June 30, 2021. Additionally, the company increased speeds for all new and existing Internet Essentials customers at no additional cost.
About Comcast Corporation
Comcast Corporation (Nasdaq: CMCSA) is a global media and technology company with three primary businesses: Comcast Cable, NBCUniversal, and Sky. Comcast Cable is one of the United States' largest video, high-speed Internet, and phone providers to residential customers under the Xfinity brand, and also provides these services to businesses. It also provides wireless and security and automation services to residential customers under the Xfinity brand. NBCUniversal is global and operates news, entertainment and sports cable networks, the NBC and Telemundo broadcast networks, television production operations, television station groups, Universal Pictures, and Universal Parks and Resorts. Sky is one of Europe's leading media and entertainment companies, connecting customers to a broad range of video content through its pay television services. It also provides communications services, including residential high-speed Internet, phone, and wireless services. Sky operates the Sky News broadcast network and sports and entertainment networks, produces original content, and has exclusive content rights. Visit www.comcastcorporation.com for more information.
About Conexión Américas
Conexión Américas is the lead partner of Casa Azafrán, an 8,800-square-foot community empowerment and nonprofit collaborative at the gateway to Nashville's International District that is home to Conexión Américas and nine partners. Founded in 2002, Conexión Américas' mission is to build a welcoming community and create opportunities where Latino families can belong, contribute, and succeed.